Pit Barrel Cooker Review
The Breakdown | Pit Barrel Cooker Review
The Pit Barrel Cooker is a unique smoker grill that is taking the grilling and smoking market by storm. It never fails to magically produce consistently delicious feasts due to the specific shape and method of cooking. By hanging the food over the flame instead of on a grill, this allows the heat to rise better for a more consistent heat throughout the cooker, creating uniform cooking without burning. The build is extremely sturdy and rust-resistant, with a steel drum coated with porcelain enamel.
Pros
Simple and easy to use with consistently delicious results
Solid and durable design with porcelain enamel exterior
Versatile cooking with smoking, baking, roasting, and grilling
Convection-style cooking gives unique and flavorful results
Cons
Lid handle can get very hot
Best results with only charcoal briquettes
PRODUCT DETAILS
[table id=198 /]
The Kamado Joe Classic II is a quality design that will help you grill, bake, and smoke anything you can dream up.
DESIGN + VERSATILITY | Designed for Perfect Cooking
The Pit Barrel Cooking Co. is a veteran-owned and family-run business that was started in 2010 and has taken the smoking and grilling industry by storm. The unique design of the Pit Barrel Cooker (or PBC) results in perfectly cooked meats and it's blowing people's minds, beginners, and professionals alike. It's simple to operate and produces consistent and impressive results compared to other smokers and grills on the market.
It's simple to operate and produces consistent and impressive results…
It comes with everything you'd need to get started out of the package including 30 Gallon Steel Drum/Lid, 8 Stainless Steel Hooks, 2 Steel Hanging Rods, Charcoal Basket, Standard Grill Grate, Wooden Hook Remover, Three-point Barrel Stand. The design of this cooker, although it can be used for grilling with the included grilling grate, is to hook and hang your meat and cooks using convection-style heating. Directions are simple but very specific depending on the type of meat you are cooking. As long as directions are followed to a T, the results will be so outstanding you'll be left wondering who was hiding in the drum perfectly cooking your feast.
The Pit Barrel Cooker features top-quality construction with durable steel and a porcelain enamel coating. Pit Barrel President, Noah Glanville explains: "We found that a 30-gallon drum provides a cooking environment that produces the better product every time. I can't explain the scientific reason for this. I can tell you we have gone through 29 different prototypes with different size drums and vent adjustments every way you can imagine." In essence, the meat is hung vertically so the hot air is not blocked, creating the perfect oven with perfectly distributed heat.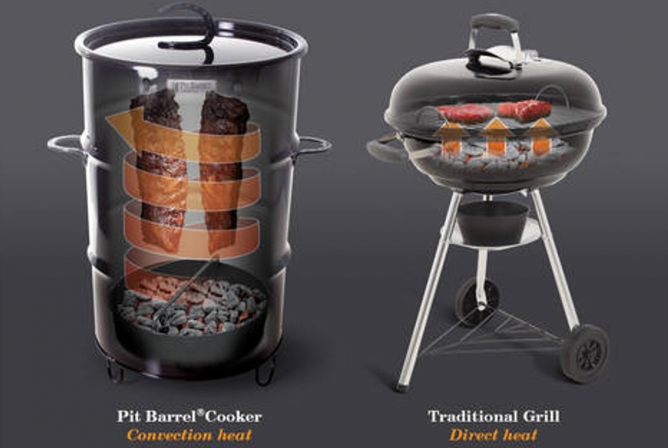 SAFETY + DURABILITY | Durable Build
The Pit Barrel Cooker is super durable, made with a powder coated porcelain enamel exterior much like other grills we've reviewed that are made to stand up to the elements. However, safety isn't a top feature for the PBC. The handle for the drum lid, although durable and cool-looking, is made of metal and can get quite hot when the PBC is fired up. So make sure you have an oven mitt handy when you're ready to lift the lid.
The Pit Barrel Cooker is super durable, made with a powder coated porcelain enamel exterior…
Also, even though Pit Barrel Cookers come with a stand that is meant to elevate them off the ground a few inches, make sure to provide an additional protective layer if you'll be using them on any surface that could be damaged by high heat, like grass, wood, or plastic. Also, maneuvering the hot metal hooks over an open flame could get tricky at times.
PERFORMANCE | One of the Best
Ease-of-Use
One of the best features of the Pit Barrel Cooker is its easy-to-use design. The PBC recipe for every type of meat calls for the same exact charcoal setup each time. However, it's important to follow the simple instructions carefully and precisely, as consistent use will result in consistently perfect cooking each time. The design comes with a 30-gallon steel drum that has a heavy charcoal basket with handles that rests at the bottom of the barrel next to a 3-inch hole.
The PBC recipe for every type of meat calls for the same exact charcoal setup each time.
The hole at the bottom of the barrel acts as a damper and needs to be precisely adjusted if you don't want to screw up your cooking. The directions state: "The bottom vent on the Pit Barrel Cooker is adjusted half way open upon arrival. If you live at the elevation of sea level up to 2,000 ft. adjust your vent to 1/4 way open, 2,000-5,000 ft. 1/2 way open, 5,000 to 8,000 ft. 3/4 way open and 8,000 ft. and above all the way open."
One feature that would make the round steel damper easier to use would be 1/4, 1/2, and 3/4-inch marks for precise adjustment with a small handle for adjusting easier, but this is really a minor issue and doesn't affect the overall awesomeness of the PBC. Just don't mess up this one crucial piece or the magic of the Pit Barrel Cooker will be lost.
Best Features
A nice feature of the Pit Barrel Cooker is the large capacity for huge slabs of meat. You can easily fit eight slabs of ribs, a few roasts, or a few large birds with no problem and possibly room to spare. The posted capacity of 240 square inches is for the included grill grate, but the capacity for hanging meats is dramatically higher. If you want to hang and cook on the grill grate at the same time, PBC Co. has a new Hinged Cooking Grate to make your life easier.
The unique vertical meat-handing method puts the food in the center of the heat…
The unique vertical meat-handing method puts the food in the center of the heat which allows for even set-it-and-forget-it cooking. By hanging the meat, you aren't blocking the heat from rising and circulating which creates a perfectly even heated cooking environment. Some people have expressed concern that the Pit Barrel Cooker doesn't have a water pan, but this really isn't an issue. Moisture from the meats being cooked collects and is trapped in the barrel. In addition, the juices from the meat will drip onto the coals and end up creating a yummy blend of smoke and flavor that rises back into the meat, creating a flavor unlike any other smoker we've reviewed.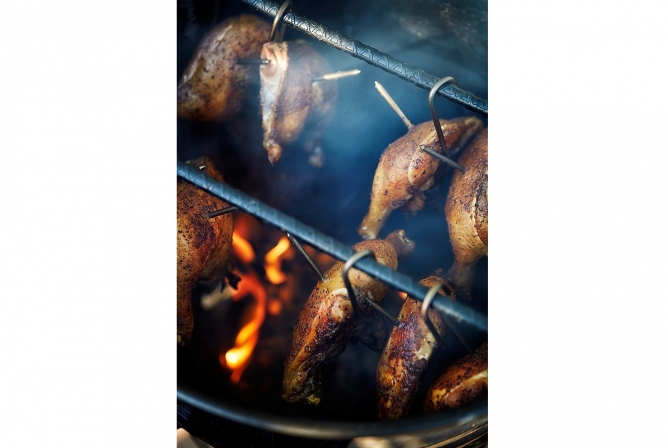 In addition to the high-quality design, the Pit Barrel website has numerous clear instructional videos for using the Bit Barrel Cooker and creating various recipes from Ribs and Pizza to Cookies and Holiday Turkey. Besides the heavy-duty steel build of the drum, the meat hooks and grill grate are both stainless steel, and the grill grate is chrome plated.
Another feature of this smoker grill is that it mainly runs on charcoal briquettes. Its consistency relies on the heat and consistency of charcoal, so adding wood or other fuel types could create inconsistent results. When first started, the Pit Barrel Cooker heats up fast and hot reaching temperatures around 500 degrees Fahrenheit. After about a half hour, the temperature should drop around 300, and then slowly stabilize around 250 degrees Fahrenheit where it will stay for many hours. Check out some of the best hammocks to relax in while you wait for you feast to cook!
PRICE + LONGEVITY | Heavy Duty for Great Price
Longevity
Because of the beastly design of the Pit Barrel Cooker, this smoker grill has a top-quality construction with durable steel to last a long time. The powder coated porcelain enamel exterior will make it last if left outside, although it's always a good idea to get a cover for your grills or smokers. It doesn't have a lot of weld lines or parts, making it rust resistant and durable.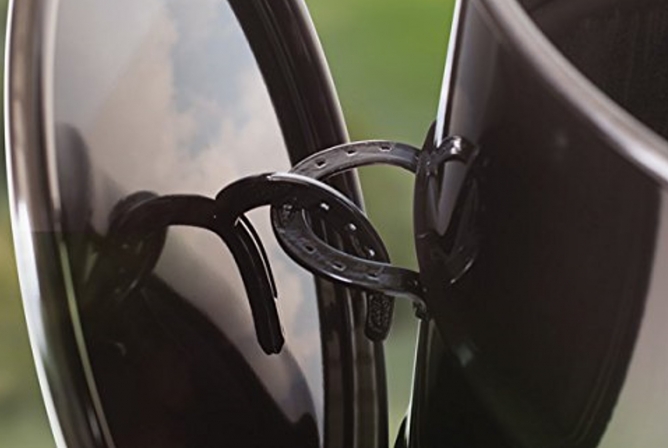 Price
It's really hard to find a good quality smoker or grill for a reasonable price today. However, the Pit Barrel Cooker makes it easier to have a quality cooker on a budget. Also, because Pit Barrel Cooker Co. is a family-owned company, quality and customer service are their lifeblood, so you know you're getting quality service and product. Because the president of the PBC Co. is a veteran, U.S. Military, Police, and Fire active duty and veterans are eligible to receive a free custom logo plate featuring your branch or department.
Because Pit Barrel Cooker Co. is a family-owned company, quality and customer service are their lifeblood…
PROS
Simple and easy to use with consistently delicious results
Solid and durable design with porcelain enamel exterior
Versatile cooking with smoking, baking, roasting, and grilling
Convection-style cooking gives unique and flavorful results
CONS
Lid handle can get very hot
Best results with only charcoal briquettes
THE BOTTOM LINE |
The Pit Barrel Cooker is a unique smoker grill that is taking the grilling and smoking market by storm. It never fails to magically produce consistently delicious feasts due to the specific shape and method of cooking. By hanging the food over the flame instead of on a grill, this allows the heat to rise better for a more consistent heat throughout the cooker, creating uniform cooking without burning. The build is extremely sturdy and rust-resistant, with a steel drum coated with porcelain enamel.

It comes with a charcoal basket, a grill insert, hooks for hanging meat, rods to hang the hooks, the steel drum, a wooden hook remover, and a 3-point barrel stand. The design of the PBC is unique to any other smoker we've reviewed due to the "hanging of the meats" method. Everything you need to get started right away is all set up for you when delivered. The only key to using the Pit Barrel Cooker is to follow the instructions to the T. Doing so will result in consistent and perfect results. Professionals and beginners alike call the PBC "magic". If you want more excuses for spending more time outside, check out some of the best lawn mowers we could find